Grilled Parmesan Zucchini. Grilled Parmesan Zucchini Grilled Parmesan Zucchini. Grilled zucchini slices get a savory, garlic and Parmesan cheese topping for a quick, savory side dish. Cut zucchini in half - lengthwise.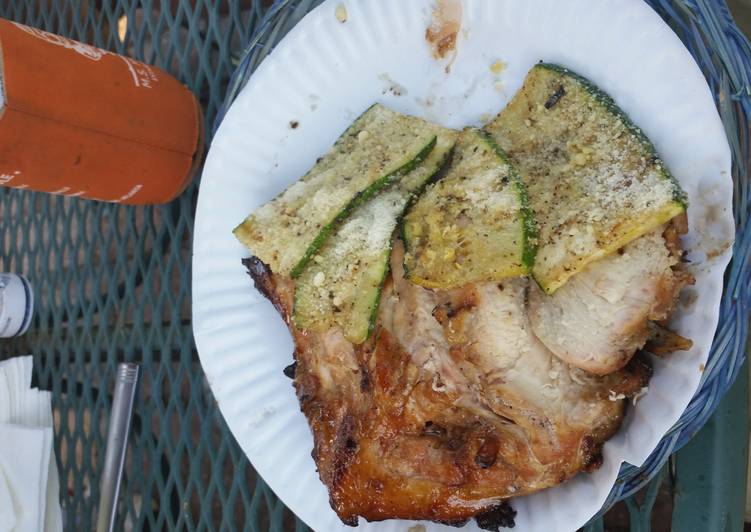 In this easy recipe, the crunchy, bright breadcrumbs offset the sweet, soft zucchini in the most delightful way. Serve this healthy side with grilled chicken, fish or shrimp or as part of a vegetarian summer meal. This recipe is easily doubled or tripled if you have a bumper crop of zucchini. You can cook Grilled Parmesan Zucchini using 5 ingredients and 6 steps. Here is how you cook that.
Ingredients of Grilled Parmesan Zucchini
It's 2 medium of Zucchini.
Prepare 4 tbsp of olive oil, extra virgin.
Prepare 1 tsp of fresh ground black pepper.
It's 2 tbsp of garlic salt.
It's 1/4 cup of fresh grated Parmesan cheese.
Parmesan Grilled Zucchini Recipe is a must try side dish that even the kids will love. It is so simple to prepare, inexpensive and healthy. Not to mention the grill gives the zucchini such an amazing flavor. As most of you know by now, I am a HUGE fan of grilled zucchini!
Grilled Parmesan Zucchini step by step
Preheat grill ( gas or charcoal, preferably the latter) for medium heat..
While grill is preheating, cut each zucchini in half then cut halves length wise into 1/4" thick strips..
Lay cut strips flat on a large baking sheet, drizzle with half of required amount of olive oil and season with half of the required amount of pepper and garlic salt..
Once grill is preheated, place the seasoned side of zucchini strips down on the grill and repeat step 3 on unseasoned side of zucchini. Grill 3-5 minutes or until the grill marks are prominent on the the zucchini..
Flip zucchini, add Parmesan cheese to the grilled side of the zucchini, close lid and grill another 3-5 minutes..
Remove from grill, serve hot and enjoy!.
Brush zucchini halves with olive oil and season to taste with salt and pepper. Sprinkle with parmesan cheese and oregano and serve immediately. PREHEAT a gas or charcoal grill over high heat. WHISK together butter, Parmesan, basil and oregano; season with salt and pepper, to taste. CENTER zucchini on a sheet of Reynolds Wrap® Heavy Duty Foil.