Oven Fried Chicken Tenders. Everyone's two-thumbs up favorite for a family-friendly meal, chicken fingers get a major upgrade from the standard variety with just a few quick improvements from Betty Crocker. Oven fried chicken tenders aren't really up my alley. In my family, fried chicken is a staple.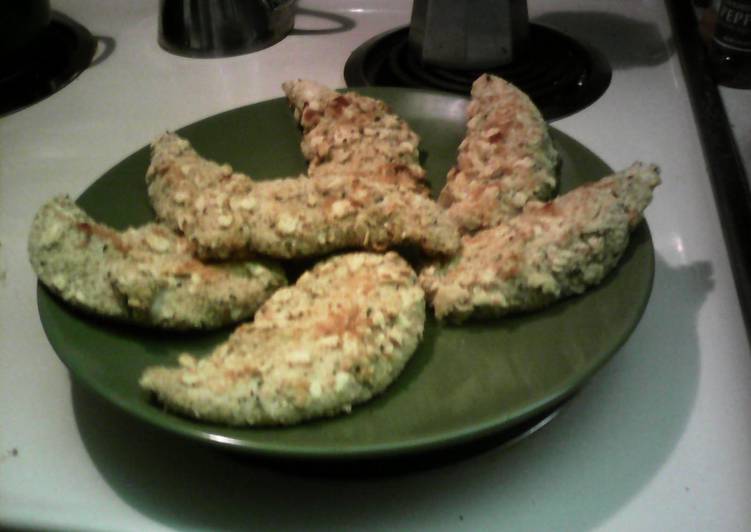 These oven "fried" chicken tenders are so juicy and perfectly crispy and delicious. A simple and easy way to enjoy your favorite comfort food but healthier. We all love chicken tenders and remember the days when all we wanted was some chicken tenders. You can have Oven Fried Chicken Tenders using 7 ingredients and 7 steps. Here is how you cook it.
Ingredients of Oven Fried Chicken Tenders
It's 10 piece of chicken tenders.
You need 10 piece of crackers.
Prepare 1/2 cup of milk.
It's 1/2 cup of bread crumbs.
Prepare 1 tbsp of dried parsley.
You need 1 tbsp of dried garlic.
It's 1 tsp of old bay.
They are so comforting and hard to resist. These oven fried chicken tenders TRULY come out just like they've been fried! They are a beautiful golden brown all over and super crunchy. Make these with chicken tenderloins or cut chicken breast into tenderloin length strips!
Oven Fried Chicken Tenders instructions
Preheat oven for 375. Rinse chicken tenders , then pat dry..
Crush crackers add with bread crumbs and dry ingredients in bowl..
Soak chicken in milk in bowl.
Take small amount of crackers bread crumbs mixture and sprinkle on plate. Then take soaked chicken from milk coat with bread crumbs, both sides..
Place chicken on non stick baking sheet after coated..
Bake tenders at 375 for 30 minutes..
Add Parmesan if you like on the before baking if you want..
This is the parmesan flavoured version of these Truly Golden Crunchy. These Oven Fried Chicken Tenders Recipe taste completely deep fried! You won't believe how I get them so crunchy and crispy just in the oven! These oven-fried chicken tenders are SO versatile, and SO delicious. I don't want you going into this recipe thinking you're The only three ingredients you need for these oven-fried chicken tenders are: chicken (duh), flour, and eggs.