Turkey Meatballs in a Yummy Pasta Sauce.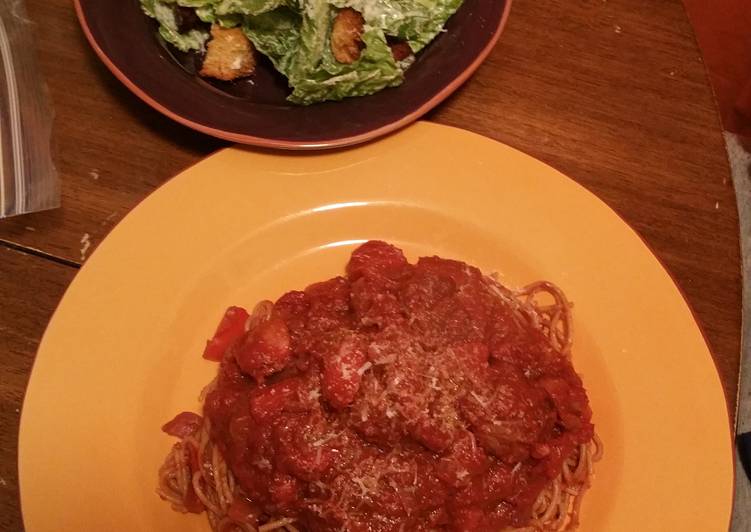 You can have Turkey Meatballs in a Yummy Pasta Sauce using 12 ingredients and 7 steps. Here is how you achieve that.
Ingredients of Turkey Meatballs in a Yummy Pasta Sauce
Prepare 1/2 lb of Ground turkey.
It's 3 clove of Garlic. 2 minced one grated.
Prepare 2 of Onions - One chopped, 1/4 of the other grated.
It's 1 of Red bell pepper chopped.
It's 6 of Fresh chopped mushrooms.
You need 1 of Large can of crushed tomatoes.
It's of Salt and pepper.
You need 1 tsp of Red pepper flakes.
It's 1 cup of Red wine.
Prepare 1/4 cup of Freshly grated parmesean cheese.
You need 1 tsp of Rosemary.
It's 1 of Extra Virgin Olive Oil.
Turkey Meatballs in a Yummy Pasta Sauce instructions
In a bowl add ground turkey, grated onion, grated garlic, parmesean cheese, rosemary, salt and pepper. Mix with a fork..
Roll into meatballs. Size of your choice. Place into heated large pan with high sides with a little extra virgin olive oil. Brown on all sides. Be careful not to break metballs. Take out and place on a plate..
In same pan, add chopped onion, red bell pepper, mushrooms and garlic. Sprinkle a little salt and pepper. Add more oil if you need to. Cook for about 7-8 minutes or until cooked down..
Add wine and red pepper flakes. Let cook about 1 minute. Add meatballs back in..
Add crushed tomatoes. Rinse can with about 1/2 cup of water and pour into pan..
Bring to a boil, turn down to medium low, cover and let cook 30 minutes. Stir occasionally..
Serve over pasta of your choice..