Classic Ragù with Pasta. A delicious fresh pasta recipe with an Italian pasta sauce, Emanuele Scarello's ragù dish makes a beautiful and elegant Italian starter. Ragù is a true classic Italian sauce, although the recipe can vary greatly from region to region and even from family to family. Cut the pasta dough in half and pass it through a pasta machine at its widest setting.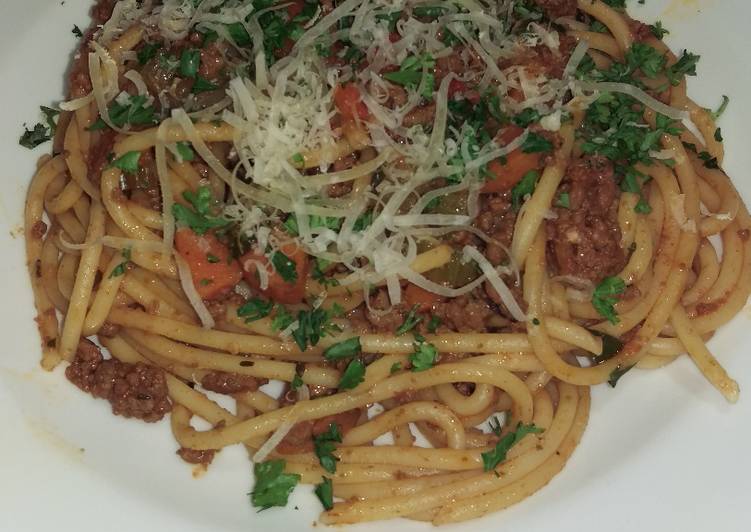 For this warming dish, you'll make a rich pork ragù—a classic Italian meat sauce—to serve with cavatelli pasta, whose slightly open shape is a perfect partner for the hearty sauce. Sweet-tart bites of currants throughout elevate the savory flavors of the dish. Oxtail ragu makes a lovely sauce for pappardelle pasta. You can have Classic Ragù with Pasta using 18 ingredients and 8 steps. Here is how you cook that.
Ingredients of Classic Ragù with Pasta
Prepare 4 tbsp. of extra-virgin olive oil.
It's 1 of medium onion, finely chopped.
You need 1 of large celery stalk, very finely chopped.
Prepare 1 of large carrot, peeled, very finely chopped.
It's 1 clove of garlic, peeled and sliced.
It's 1 lb. of ground beef (80-20).
It's 1/2 lb. of ground pork.
It's 3 slices of pancetta (or bacon), chopped.
It's 3 tbsp. of tomato paste.
You need 3/4 cup of dry red wine.
You need 2 1/4 cups of beef stock, divided.
It's 1 of "roasted" red bell pepper, skinned, seeded, chopped.
It's Dash of salt, pepper, thyme, oregano, and thyme.
It's 4 tbsp. of basil.
Prepare 1/2 cup of whole milk.
It's 1 lb. of fettuccine or bucatini pasta.
Prepare 1/4 cup of chopped parsley.
You need of Finely grated Parmesan (for serving).
When sauce is almost done, cook pasta. Serve pasta with sauce and shrimp, garnished with a few leaves of marjoram or oregano. Feel free to use it on any kind of pasta. Traci des Jardins' take on a classic, produce-forward summer salad features juicy tomatoes, crunchy cucumbers, and lightly sweet slices of jicama.
Classic Ragù with Pasta step by step
Heat the oil in a large heavy pot over medium-high heat. Add the "soffritto" of onions, celery, and carrots. Sauté for 6-7 minutes. Add garlic and sauté for 1 minute. Place vegetables in a bowl and set aside..
Add ground beef, pork, and bacon; sauté, breaking up and turning with a large spoon, until browned. Add the vegetables to the pot and stir..
Add tomato paste, mix well, and heat for 1-2 minutes. Add wine; boil 1 minute, stirring often and scraping up browned bits..
Add 2 cups stock and the roasted pepper, stir to blend. Reduce heat to low and gently simmer, stirring occasionally, until flavors meld, 1.5 hours. Season with salt, pepper, oregano, thyme, and the basil..
Bring milk to a simmer in a small saucepan; gradually add to sauce. Cover pot with lid slightly ajar and simmer over low heat. Stir occasionally until milk is absorbed, about 40 minutes. [Add more stock, 1/4-cupful to thin if needed].
Bring a large pot of water to a boil in another pot. Season with salt and a splash of olive oil. Add pasta and cook, stirring occasionally, until 1 minute before al dente. Drain, reserving 1/2 cup pasta water..
Transfer beef flavored ragù to a large skillet over medium-high heat. Add pasta and toss to coat. [Stir in some of the reserved pasta water by the tablespoonful if sauce seems dry] Heat through..
Divide pasta among warm plates and sprinkle with parsley. Serve with Parmesan..
Giorgia Goggi mixes this slow-cooked tomato sauce with octopus and saffron into paccheri pasta di Gragnano, a thick, air-dried Italian macaroni. Reserve a cup of cooking water, then drain. Transfer the pasta to the ragu. Very easy way to make pasta in sauce. one less step! No need to drain so one less dish to wash!